Your Windjammer Vacation...
Your sailing vacation begins in our beautiful homeport of Camden, Maine. The schooner is docked at the head of the harbor in a cheerful town park and we are very easy to find. We'll spend the first night of the cruise docked in Camden Harbor and you'll be able to check out the sights, shops, and restaurants all within walking distance of our dock.
The next morning we'll set out into Penobscot Bay and go sailing! The destinations of each trip are dictated by the wind, tide, and mood–for the French is pure sail and has no inboard engine. Once the sails are set and trimmed, perhaps we'll head downeast towards Acadia National Park or towards enchanting Eggemoggin Reach. Our anchorages are mostly deserted islands or small island lobster fishing towns. It is truly escaping to places few folks will ever experience.
Spend the days trimming sails, steering the schooner, learning about the Maine coast and wildlife, or just sit back, read a book, and watch the scenery drift past. We often see bald eagles, seals, porpoises and occasionally whales. The galley crew cooks up delicious meals on our wood cookstove, so those sea going appetites will be satisfied and then some. When the sun begins to set, the French will settle into a cozy harbor and swing silently at anchor.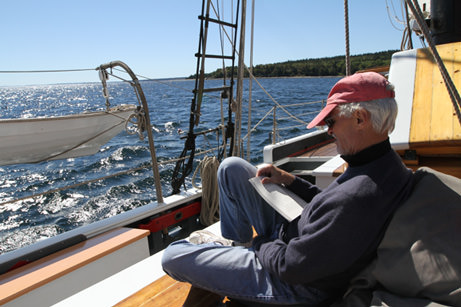 While at anchor, you can launch one of our rowboats and explore the area. Head ashore for some beachcombing or hike around a small Maine island town, but be sure to be back aboard for a hearty dinner. After dessert, enjoy time with your new shipmates, check out the beautiful night sky, or perhaps just enjoy the quiet and serenity.
One of the afternoons of your trip we will anchor at a deserted island and row ashore for an All-You-Can-Eat Lobster Bake. We'll cook up the freshest lobster you've ever had on a beachside bonfire and you can dig right in.
During your trip we'll sail around the hundreds of islands that dot our cruising grounds. You'll settle into the rhythm of shipboard life and leave that "other world" behind. By trip's end, your new shipmates will have become new friends and you'll understand why so many of our guests come back every year for a sail on the French.
Good Eats
All day long the galley crew will cook up delicious meals, snacks and desserts on our wood cookstove. We'll have coffee and muffins on deck at 6:30 for you early risers up to enjoy the solitude of the morning light. Breakfast at 8 might include Maine blueberry pancakes
, maple sausage links, real Maine maple syrup and homemade jams, cereals, juice and coffee. After a morning of sailing (and cranking up the anchor if you're feeling strong) you'll be ready for a hearty lunch of homemade soup, salad, bread and fruit. Save room for dessert! Dinner might include coriander pork tenderloin with a side of garlic mashed potatoes, roasted asparagus and hot buttered rolls. Did we mention dessert? We love to serve cakes, pies and crisps and it's a dessert tradition on board to make homemade ice cream once a week. You haven't tasted ice cream this thick and creamy in a long time! Needless to say, you won't go hungry.
We like to serve meals buffet style on deck or family style below in the galley, depending on the weather. There is sitting room for everyone below. The galley is also a great place for playing games, reading, learning a new recipe, or just enjoying the warmth of the woodstove and socializing with your shipmates.
banner photo: Bridget Besaw Gorman
photo: Jackie Normile
Points of interest
Pure Sail, No Noisy Inboard Engine
Only 21 guests
Minimum guest age: 16, please
Escape from Cell Phones, TV and Radio. (It's nice! Trust us.)
Sail a National Historic Landmark and America's Oldest Windjammer
Island Lobster Bake on Every Cruise
100% No Smoking on Board
Owner Captained
Sailing Participation Encouraged but not required
Two small wooden skiffs for your rowing and sailing enjoyment
The Lobster bake
A Windjammer cruise isn't complete without lobstser! On every trip we'll anchor off a small island and head to the beach for an All-you-can-eat lobster bake. We build a campfire on the beach and steam up a whole mess of fresh lobsters, corn on the cob and hot butter. We round it out with hot dogs, hamburgers, veggie burgers, chips, veggies and dip and, of course, s'mores. While on the beach, feel free to take a dip in the ocean, or play some horseshoes (our new set has been quite a hit!) The bake is also a great time to wander off and explore the beach, island trails and rocky coast...just be back on time for lobster.