A Little History
Built by the French brothers and named for their father, the schooner Lewis R. French was launched in April, 1871, in Christmas Cove, Maine. She is the last schooner remaining of thousands built in Maine during the 19th century. Due to some luck and love, the French has carried an assortment of cargoes for various owners around the Northeast for over 130 years! She freighted bricks, lumber, firewood, granite, fish, lime, canning supplies, Christmas trees, and now people.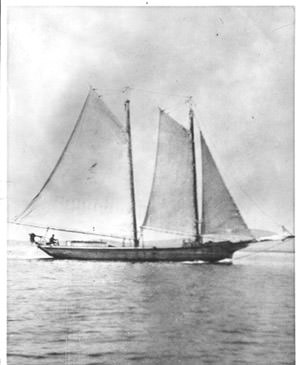 She worked hard carrying freight until 1971, when she then spent 3 years being rebuilt for the passenger trade. Much of her hull was renewed with massive timbers of oak, pine, and fir. She still looks, feels, and sails much like she would have the day she was launched, and the French boys would be proud to see her sails drawing as she heads Downeast.
The French was proudly named a National Historic Landmark and has a large following. From folks that have sailed on her as a windjammer to old-timers who remember her when she carried freight, the French has touched many people. It is a truly unique experience to sail on a vessel that has been active since shortly after the death of Abraham Lincoln!
Today
The French is still operated much how she would have been during the age of sail. She has no inboard engine, relying on 3,000 square feet of sail to propel her. She has four lower sails and two topsails. If the wind dies, a push from our yawlboat "Greyhound" will help her along. All the sails are still raised and trimmed by hand, and the anchor is manually raised each morning using our windlass. There are no engines on deck or below to spoil the serenity. The French is 101 feet overall, 65 feet on deck, with 19 feet of beam. She draws 7.5 feet with a full keel. A proven vessel in all conditions, she is a nifty and quick sailor, having won the Great Schooner Race many times. The French has also participated in recent Tall Ships gatherings in Boston.
The French is inspected annually by the U.S. Coast Guard, is outfitted with modern navigation equipment such as VHF, GPS and radar, and is in top-shape.
banner photo: Andy Watras; photo #3: Neal Parent
The Lewis R. French through the years
U.S. Grant is president, the Nation is recovering from the Civil War. There are 37 States. Hundreds of schooners are built along the coast each year.
Schooner Lewis R. French is launched in Christmas Cove, Maine
The French is sold into the fishing trade, working as a seiner. This was her only stint as a fishing schooner due to a boom in the fishery in Maine
The French is sold and moved to Mt. Desert Island where under various owners she works the coastal cargo trade.
The French is sold again and moved to Bucks Harbor, ME. Her new owners install a gasoline engine.
While at the dock in Belfast, ME with a cargo hold full of bricks, the gas engine causes a fire aboard the French. The vessel is then extensively rebuilt and turned into a sardine carrier.
The French works out of Lubec (way downeast Maine) for the American Can Company and Seaport Navigation Company. She carries tin and canned sardines between Maine and Nova Scotia
The French is sold and massively rebuilt. She is restored to her previous sailing glory and put into the passenger Windjammer business.
The French is designated a National Historic Landmark. She is the oldest surviving Maine built schooner, and the only one built in the 1800's still existing.
The Lewis R. French celebrates her 145th birthday! Incredibly, she has been homeported in Maine her entire life.