Charters and weddings aboard the Lewis R. French
Interested in having the boat all to yourselves? We've accommodated charters for family reunions, scouting groups, school groups, church groups and weddings. We can customize your charter to fit your group's needs. We usually need a long lead time to accommodate a charter, so it's never too early to inquire. Pricing is based on the time of year and length of charter.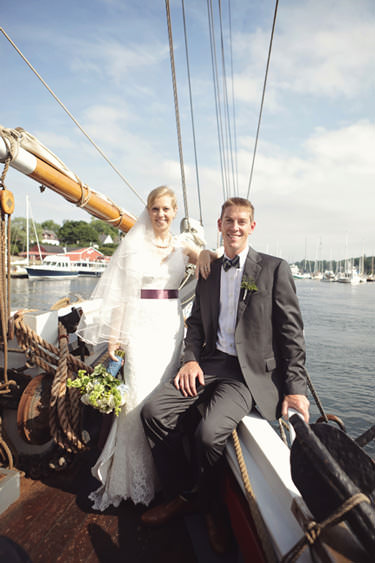 Envisioning a nautical wedding? Captain Garth is licensed to perform weddings in Maine! We love to host weddings aboard the schooner, and you don't have to charter the whole vessel to accommodate your Windjammer wedding. We can accommodate weddings at the dock or during a cruise. Some people choose to hold a small ceremony while we're underway, others while at anchor, and some like to have their ceremony on a secluded beach. We can assist you with your ceremony and special arrangements such as a wedding cake and champagne.