Packing for your cruise
CLOTHING
We are very relaxed and informal on board, so bring comfortable outdoor clothes. If possible, use a duffel or collapsible bag to pack your gear. Hard suitcases are sometimes difficult to store in the cabins. The weather may be cool or warm, so include pants, shorts, long and short sleeve shirts, a sweater or sweatshirt and a jacket. When the wind picks up, things cool off, so think layers when you pack. Don't forget your bathing suit, either for sunbathing or a quick plunge in the ocean. Soft soled shoes are best, and an extra pair may come in handy. Sandals also work well on board or on the beaches we visit. If you have a rain slicker, bring it along just in case. We do have extra rain gear on board if you can't bring your own. Also, if you can, check the weather for Camden, Maine online before you pack. It may give you an idea of the specific weather for your trip. But remember that it is always slightly cooler out on the water.
We provide towels, linens, blankets, pillows, and all the food and non-alcoholic drinks. We have an icebox on board for passengers to use if they would like to bring along their own beer, wine, etc.
OTHER THINGS YOU MIGHT LIKE ABOARD
Bring a camera with extra batteries, sunglasses, lots of sunscreen, a good book, binoculars, a journal, and your musical talents/instruments (if they are transportable!). If you want to sleep on deck under the stars, bring along a sleeping bag. Some folks bring charts or GPS's to keep up with our route.
Once we leave the dock, we operate on 12 volt DC power. We do have limited 110 volt AC power (like in your house) that can be used for medical machines and for occasional charging of batteries. Please let us know when you book if you will be needing 110 volt AC power to operate a medical machine.
banner photo: Mario Toti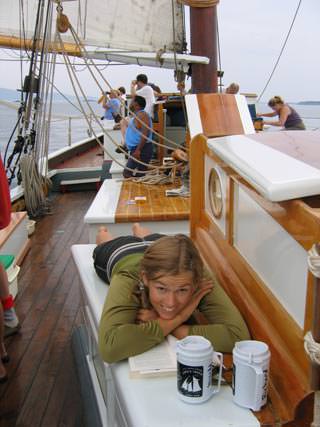 photo: Willa Johnson
Shameless plug alert
We sell Lewis R. French gear aboard. We have t-shirts, baseball hats, sweatshirts and often a few other items.
What if I forget something?
Within walking distance from our dock in Camden are a number of stores. There is a pharmacy, small grocery store, wine/beer store and outdoor clothing store. You'll have time to make last minute purchases before we leave the dock.