We welcome you...
Captains Garth Wells and Jenny Tobin take great pride in owning such a wonderful vessel as the Lewis R. French. "We see ourselves as the caretakers of her for the next 25 years, not as the owners," says Garth. "The truth is, she owns us, we don't own her. But we are lucky to be able to do something that we love, a 'job' that includes sailing a traditional schooner on the Maine coast, and getting to share the whole experience with our guests. You can't help but have fun."
Garth has been sailing the French since 1998, first as the mate, and now as Captain/Owner. As a youngster, he learned to sail by racing BeetleCats in the Nantucket Sound off Cape Cod. He has been messing about in boats ever since. His different jobs have taken him from the Caribbean to the Canadian Maritimes to the Great Lakes, and along the Pacific. He has sailed huge square-rigged vessels, modern day yachts, schooners, and commercial fishing vessels. Signing on to work on the French, he quickly realized that Maine was the ultimate in traditional boat sailing, combining beautiful scenery and good winds with the protection of countless islands. As crew on the French, he fell in love with the boat and the Maine coast and worked his way up the ranks to reach his dream of being an owner and captain of a windjammer. In the winters, maintenance on the French takes first priority, but he can also be found working at local shipyards and sometimes sneaks a sail or two down to the Caribbean (but not with the French!)
Jenny grew up in Skokie, Illinois, and spent her summers sailing small vessels on the Great Lakes. After college, she started working on larger traditional vessels, and those sails took her to South America, Bermuda, and up and down the East and West Coasts of the U.S. Jenny and Garth met when she took the 1st mate's position on another Camden Windjammer (the horror!) berthed next to the French. After many (many!) years of dating, they got married in 2007. Jenny sails as much as she can, but also stays ashore to man the Lewis R. French Global Headquarters, answering phones and paying the bills. In the winters she helps maintain the French, as well as doing yacht deliveries and occasionally some teaching.
Both Garth and Jenny are United States Coast Guard Licensed Masters and look forward to being your shipmates for a cruise on the Lewis R. French.
banner photo: Mario Toti; photo #1: Bridget Besaw Gorman
photo: Keith Fayan
The Crew
We sail with a professional crew of four: captain, first-mate, cook and deckhand. We hire crewmembers that are not only skilled in their trade, but also are easy going and great hosts. The entire crew is aboard to make your trip more enjoyable and safe. They are certified in 1st Aid and CPR, and we are proud to announce that our crew is 100% scurvy-free.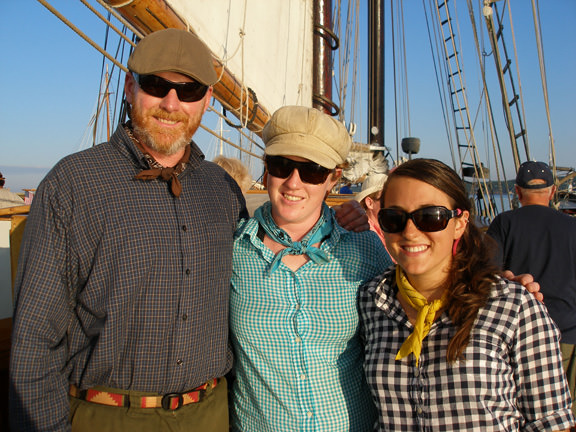 Intersted in working aboard the French? Check out our employment page